Skids for cold sterile filtration of beer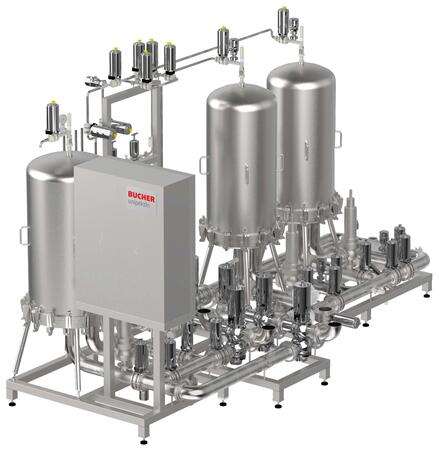 The Stefinox provides skids for sterile filtration of beer.
Standardised skids for easy installation

Prefiltration, sterile filtration and media filtration all on one skid

Maximum safety and cartridge lifetime

Standalone skid or for integration
Cold sterile filtration before the filler is an alternative to flash pasteurizing. The Bucher Unipektin Stefinox skid allows a flexible and easy-to-integrate solution for small to medium size breweries (flowrates from 0–500 hl/h).
This safe solution for reliable product shelf-life, uses standard cartridges, and an integrity test of these membrane cartridges can be performed before each run.
Capacity range for the skids
STEFINOX 1: 0-70 flowrate skid in hl/hr beer
STEFINOX 2: 70-200 flowrate skid in hl/hr beer
STEFINOX 3: 200 250 flowrate skid in hl/hr beer
STEFINOX 4: 250 500 flowrate skid in hl/hr beer