Kieselguhr and Stabiliser
Kieselguhr / PVPP preparation and deaeration vessel equipped with Bucher Denwel axial agitator.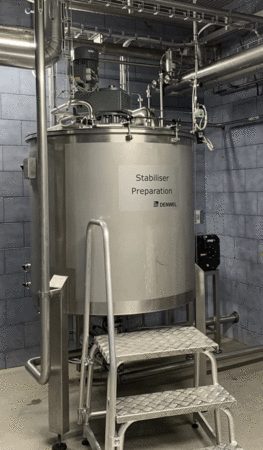 Final Oxygen below 30 ppb

CO2/N2 and energy savings 

Safe & hygienic design

Turnkey unit or upgrade
A single CO2 inlet aligned to the stirrer blades ensures the highest stripping efficiency and low gas consumption. The enhanced homogeneity provides fast filtration cake setting and consistent precoating; the low oxygen improves the flavour stability of the final product.
The Kieselguhr/PVPP preparation & deaeration vessel is equipped with a Bucher Denwel axial agitator, developed in cooperation with the technical university. High speed is applied for fast homogenisation and deaeration of the suspension. Once the required parameters are reached, the agitator speed slows down for significant energy saving. 
Vessel capacity: 300 to 3 000 L

O2 concentration: down to 30 ppb

Stripping gas: CO2 or N2