Vertical screw elevator for transporting pome fruit.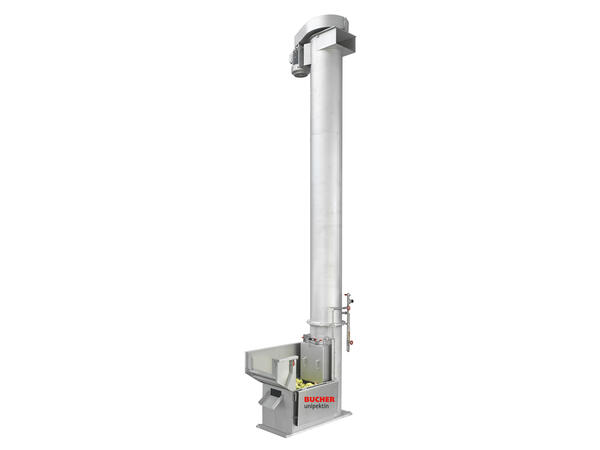 High throughput with a small footprint

High reliability with low maintenance

Efficient separation of water and dirt

Fresh water cleaning if needed
The elevator is used in reception lines to transport pome fruit in a vertical direction. It is especially suited to overcome large differences in height, i.e. between flushing channels or sorting and grinding systems. In addition, the fruit will be cleaned in the lower part of the elevator.

The fruit is fed to the elevator opening via a conveying element. The sump is filled with water to assure careful handling of the fruit and, at the same time, to remove attached dirt. The fruits are caught by the screw, transported vertically and discharged at the elevator head to the next unit. Water from the sump which has been dragged along is effectively separated from the fruits by centrifugal force and gravity and discharged through slotted separators. Periodically, the separators are manually cleaned from adhering grass and leaves.
The screw drive with three-phase-motor and V-belt is mounted at the elevator head. The separators are secured with proximity switches.
Comes with the option of additional fresh water.
Vertical Elevator 400
Diameter: 400 mm
Length: max. 8000 mm
Motor up to 5000 mm length: 4 kW / 400 V / 50 Hz
Motor up to 8000 m length: 5.5 kW / 400 V / 50 Hz
Capacity: max. 25 t/h
Vertical Elevator 500
Diameter: 500 mm
Length: max. 8000 mm
Motor up to 6000 mm length: 11 kW / 400 V /50 Hz
Motor up to 8000 m length: 15 kW / 400 V / 50 Hz
Capacity: max. 40 t/h