CIP plant providing multiple lines for the cleaning of pipes, tanks and process technology.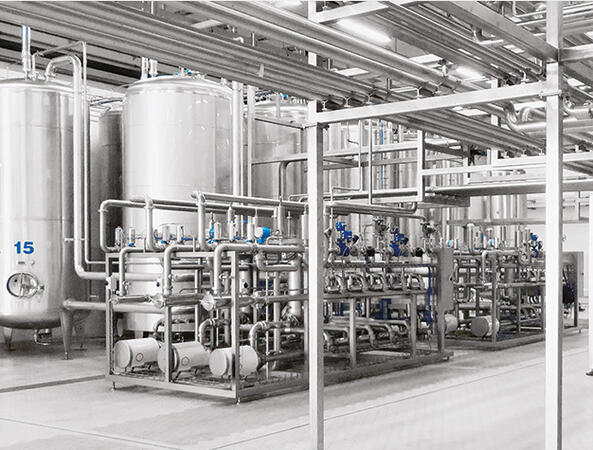 Fully automatic CIP programs ensure perfect cleaning

Economical production due to full automation

Individual programming of each cleaning circuit 

3, 4 or 5 vessel system

Vessel size up to 20 m3

Up to 6 different cleaning circuits
Brewing high-quality beer using modern production techniques requires effective and careful cleaning of process equipment. Bucher Denwel offers a CIP plant designed specifically for your bespoke project needs.
Our CIP is a fully automatic system programmed to achieve optimal sanitation of the entire production line. It consists of a complete set of equipment for CIP, including tanks for recovering water, acid and hot caustic, pumps, heat exchangers, valves and instrumentation such as conductivity and flow transmitters.
It also comes complete with custom vessels setup (insulation, volume, size), simultaneous concentrates dosing, and automatic CIP sequencing with defined sanitation parameters to cover the complete cleaning cycle, such as detergent or water selection, detergent concentrations and cycle temperatures.
Models: single and double stream plants

Storage tanks: selectable, depending on plant-size

Control: semi- and fully automated, depending on customer request