Bucher Unipektin reception lines are proven worldwide for the reception, cleaning and transportation of fruits for fruit juice production.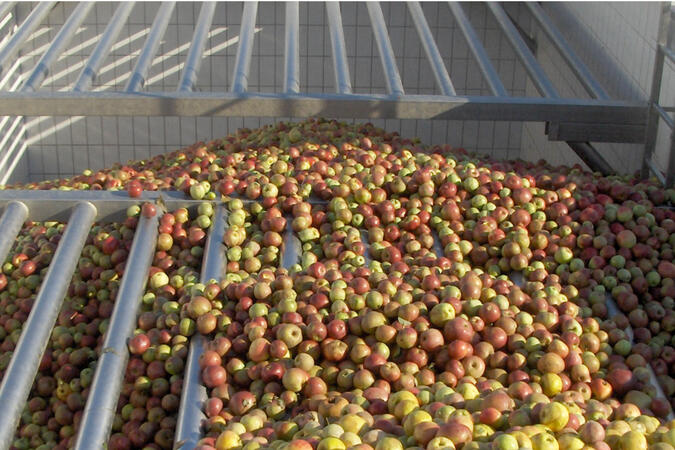 The benefits of our equipment and machinery for the reception, cleaning and transportation of fruit (primarily apples and pears) are many:
Flexibility and storage capacity

Fast unloading of trucks

Easy to clean

Hygienic set-up

Low maintenance cost
Bucher reception lines for core fruit consists of unloading stations, fruit silos and dosing systems, as well as transporting water circuits and fruit/water separation units.

All equipment has a long service life combined with low maintenance cost and high reliability. Some of the main focuses of the machines are the easy cleaning and the hygienic design.
The apples and pears are emptied into underground silos, and using the flushing water circuit, the fruit is transported to the dosing and separation unit.

Here, the dosing paddles separate the fruit from the flushing water and allow adjustment of the quantity of fruit into the vertical elevator. The elevator compensates the height between the flushing water channel and any further processes. To improve the cleaning of the fruits, additional fresh water can be injected into the elevator.

Prior to the mill, the apples pass a roller sorting table and are cleaned with fresh water applied by spray nozzles. Leaves and small particles as well as flushing water are separated before entering the mill.
The capacity of one processing line can be increased to 40 t/h. All equipment is built from stainless steel 1.4301 (AISI 304). There are two sizes of vertical elevators available, diameters of 400 or 500 mm, depending on the capacity needed. Length is limited to 8-meter vertical height. Roller sorting tables are built in two sizes, 600 x 2500 mm or 800 x 3500 mm models.