Manual unit for the inline aeration and oxygenation of beer.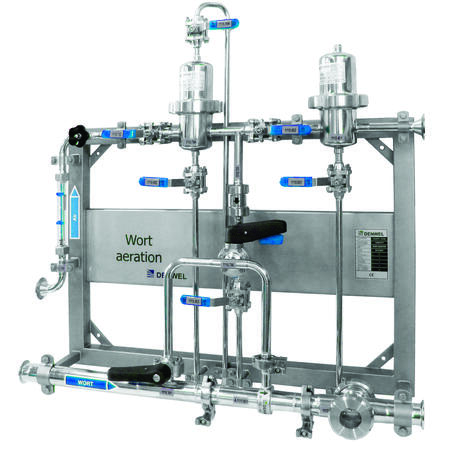 Microbubble size

Instant saturation

Sterile gas and steam filters
Oxygen or air is injected into the wort through the Bucher Denwel injector, which splits the gas into microbubbles. The most efficient and instant saturation of the gas is achieved with only a minimal pressure drop, no gas loss and a fully hygienic design. No static mixer or sintered candles are needed. The system includes a sterile filter for cleaning the gas and a steam filter that cleans the steam used to sanitise the sterile filter.
Air addition: up to 15 ppm (P & T dependent)
O2 addition: up to 25 ppm (P & T dependent)
Pressure: operating 2 to 5 barg, 30 to 72 psig
Temperature: operating 0 to 15 °C, 32 to 60 °F
CIP: 2 to 5 barg, 30 to 72 psig; max. 90 °C, 200 °F; Steam 120 °C, 248 °F
Connection: Tri-clamp; other connections upon request
Dimensions: from Height 0.8 m, 31.5"; Width 0.9 m, 35.4"; Depth 0.2 m, 6.5"
Weight: from 25 kg, 55 lb
Material: Stainless Steel 304, EPDM, PSU, PP
Models: Aeration DASxxxA; Oxygenation DOSxxxA; Aeration and Oxygenation DOAxxx
D__025M DN 25 1" 10 to 25 hl/h 5 to 11 gpm 9 to 21 bbls/h
D__040M DN 40 1½" 16 to 40 hl/h 8 to 17 gpm 14 to 34 bbls/h
D__050M DN 40 1½" 20 to 50 hl/h 9 to 22 gpm 18 to 42 bbls/h
D__075M DN 40 1½" 30 to 75 hl/h 14 to 33 gpm 26 to 63 bbls/h
D__100M DN 50 2" 40 to 100 hl/h 18 to 44 gpm 35 to 85 bbls/h