The Bucher DryBand vacuum belt dryer is designed for the continuous drying of liquid and paste-like products (pasty) as well as for free-flowing granular heat sensitive products under vacuum or freeze drying conditions.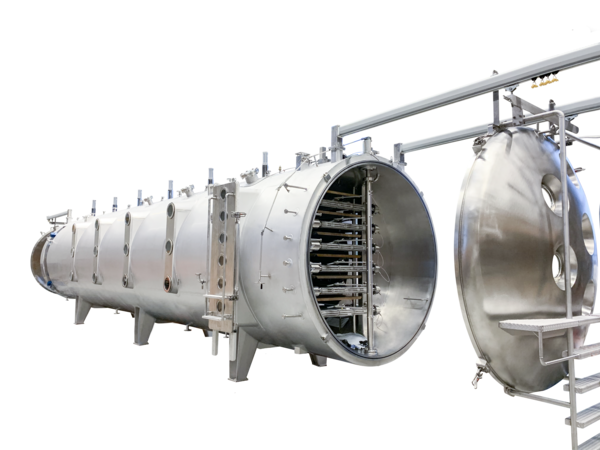 Continuous and gentle product drying

Minimal oxidation

Low energy consumption 

Minimal flavour losses

Product specific feeding and discharging systems

Fully automated operation & cleaning
Malt cocoa beverages

Malt extracts

Reaction aroma and HVPs

Herbal extracts

Proteins

Fruit and vegetable concentrates

Pharmaceutical concentrates
The Bucher DryBand is especially suitable for products that pass a glutinous and/or highly viscous phase during the drying process, and for products that are sensitive to mechanical stress.
 
Liquid products are uniformly distributed on the belts with swivel feeders. Free-flowing powders, granules and products of larger sizes are conveyed into a hopper on top of the vacuum belt dryer. The product is fed in doses into an intermediate chamber under vacuum, from where the product will be loaded onto the top belt by a unique rotary dosing system. Liquid or pasty products are conveyed through the dryer on parallel operating belts. Solid products are transported back and forth through the dryer from the top to the bottom belt, to extend the residence time.
 
Heating plates underneath the belts are installed in independent heated zones to permit constant or variable drying rates. This system allows gentle continuous drying for maximum product quality. In addition, the last zone can be designed as a cooling zone if required.
 
At the end of the belt, the dried product is cut to the desired size by a guillotine type breaker bar and a crushing device. The product is collected in an intermediate hopper from where it is discharged out of the vacuum into the atmospheric environment using automatic airlocks. The removed vapours are recovered in a condenser. The vacuum is maintained usually by liquid ring pumps and single or multistage steam jets.

Features and benefits: 
GMP hygiene design

Strong and durable execution

High performance solutions

Very high availability

Perfect cleaning results

Minimum product loss

Energy saving
Vacuum: 0.5 - 100 mbar
Temperature max.: 180°C
Residence time: 15 - 120 Min
Capacity: 1 - 5000 kg/h
Feeding: Separte dosing pumps and swivel feed drive
Heating and cooling plate surface: 1 - 300 m²
Number of separate driven belts: 1 - 12
Belts: Polyester, PTFE coated Kevlar and Glass fabrics
Belt tracking: Depend on belts used
Dry end: Stripper and Crusher or Granulator, (Cribbler)
Discharge system: 2 or 3-hopper and butterfly valves
Conveying: Stepped dense or lean phase
Heating: Steam or pressurized water of thermal oil
Vacuum: Steam jet or chilled water condenser
CIP: Automatic 3-Step cleaning cycles
Controls: PLC and HMI with recipe control