A Cleaning In Place (CIP) process to reliably and safely clean production lines.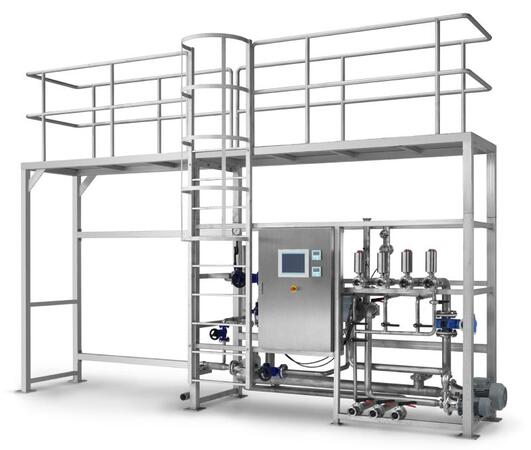 Automated preparation of cleaning agents

Object-related cleaning plans

Cleaning of single components during production

Integration into overall plant

Full automation possibilities
Bucher Unipektin CIP facilities are able to clean advanced fruit juice plants where an efficient cleaning solution is required to produce high-quality fruit juices.
Wherever apples, pears, berries or vegetables are processed, our CIP facilities can clean the tanks, pipes, grinders and other parts. Plus, cleaning units with individual CIP programs can also be completed, such as presses and evaporators.
Thanks to our broad experience, and technical understanding of auxiliary materials such as water, cleaning and disinfection chemicals, energy use is economically and environmentally optimised.
Using automated dosing units, the chemicals can be added precisely and safe. A heat-exchanger heats the brine to the desired temperature and maintains it at the desired level during the cleaning. Dosage of disinfectants or acids is optional and can be dosed inline.
By measuring the conductivity, the defined change of phases between product, cleaning solution and water are detected, and the valves are switched accordingly. The operation of leakage valves within the production range assures a secure separation of cleaning solution and product.
Typical cycle of an automated CIP-cleaning:
Pre rinsing (with recycled flushing water)

Brine-based cleaning (e. g. 1–2% NaOH on 70–80 °C)

Intermediate rinsing (optional)

Disinfection (optional) with Peroxide / Peracetic acid or neutralisation & cleaning with acid

Rinsing
Models: Single- and bi-stream plants
Storage tanks: Single- and bi-stream plants
Control: Semi- and fully automised, depending customer request