The CIP plant provides multiple lines for cleaning of pipes, tanks and process technology. Custom vessels setup (insulation, volume, size). Simultaneous concentrates dosing. Automatic CIP sequencing with defined temperature, flow or pressure.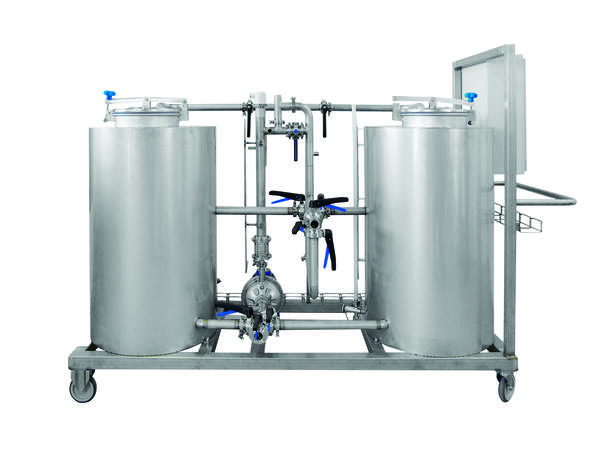 Three sizes of caustic and acid vessels
For tanks, pipes and equipment cleaning
Automatic temperature control
Optimal cleaning performance
The Mobile CIP Unit reliably removes minerals and biological residues. CIP sequencing valves are used, so that no pipe reconnection is required. Includes sampling valve for checking concentration during cleaning and automatic temperature control. The unit can be used with various detergents for cold or hot cleaning.
The Mobile CIP Unit consists of two vessels, where the cleaning solution is prepared and then circulated in a single line. The integrated heating allows heating of the cleaning media to the required temperature.
Other options can include pressurized tank cleaning, strainer, CIP vessel spray nozzles and heating during cleaning.
Detergents: Acid, Caustic, Disinfectants
Vessels: Hot caustic (with heating)
Ambient acid / Disinfectants / Rinse water (not insulated)
Pressure: Operating 1 to 3 barg, 15 to 43 psig
Temperature: Operating 0 to 90 °C, 32 to 200 °F
Connection: Tri-clamp; other connections upon request
Dimensions: from Height 1,6 m, 63"; Width 2,0 m, 79"; Depth 0,7 m, 28"
Weight: from 100 kg, 220 lb
Material: Stainless Steel 304, EPDM,
DCP050M To clean pipes DN 25 (1") up to 300 m (1000 ft) or vessels up to diameter 1,5 m (4,5 ft)
Flow: 20 to 50 hl/h, 9 to 22 gpm, 18 to 42 bbls/h
2x 200 l vessels with heating 4,5 kW + 4,5 kW as option

DCP100M To clean pipes DN 40 (1½") up to 300 m (1000 ft) or vessels up to diameter 2,5 m (8,2 ft)
Flow: 40 to 100 hl/h, 18 to 44 gpm, 35 to 85 bbls/h
2x 350 l vessels with heating 7,5 kW+ 7,5 kW as option

DCP150M To clean pipes DN 50 (2") up to 250 m (800 ft) or vessels up to diameter 2,5 m (8,2 ft)
Flow: 60 to 150 hl/h, 27 to 66 gpm, 52 to 127 bbls/h
2x 500 l vessels with heating 15 kW+ 15 kW as option