Column unit for efficient and reliable cold water deaeration under atmospheric conditions.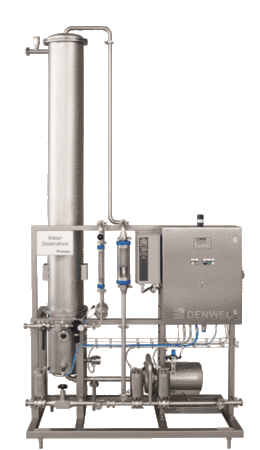 Final oxygen below 10 ppb

Carbonation of deaerated water

No vacuum required

Low CO2 / N2 consumption
The deaeration column is filled with high-efficiency structured packing. Its large internal surface ensures a maximal contact area between gas and liquid. Water is homogeneously distributed on the top and CO2 / N2 is injected at the bottom of the column. While the water flows downwards through the packing, the CO2 / N2 rises counter-currently, removing the oxygen to concentrations as low as 10 ppb. A drive-controlled pump maintains the level in the column and forwards the deaerated water into a buffer tank or point of use.
The unit has an uncompromising sanitary design and is fully CIP cleanable.
Final Oxygen: less than 10 ppb (0.01 ppm)
Pressure: operating 2 to 4 barg, 30 to 60 psig
Temperature: operating 8 to 30 °C, 40 to 90 °F
CIP: 2 to 4 barg, 30 to 60 psig; max. 90 °C, 200 °F CO2 / N2 purity: 99,995 %
Stripping gas flow: app. 0,5 g/l (final O2, water temperature and column height dependent)
Carbonation: app. 2 g/l (water temperature dependent)
Connection: Tri-clamp; other connections upon request
Dimensions: from Height 5.5 m, 16.4'; Width 1.0 m, 3.3'; Depth 0.5 m, 1.6'
Weight: from 200 kg, 440 lb
Material: Stainless Steel 304, EPDM, PSU, PP
Models:
DWD010C DN 25 1" 4 to 10 hl/h 2 to 4 gpm 4 to 8 bbls/h
DWD015C DN 25 1" 6 to 15 hl/h 3 to 6 gpm 6 to 12 bbls/h
DWD025C DN 25 1" 10 to 25 hl/h 5 to 11 gpm 9 to 21 bbls/h
DWD050C DN 40 1½" 20 to 50 hl/h 9 to 22 gpm 18 to 42 bbls/h
DWD075C DN 40 1½" 30 to 75 hl/h 14 to 33 gpm 26 to 63 bbls/h
DWD100C DN 50 2" 40 to 100 hl/h 18 to 44 gpm 35 to 85 bbls/h
DWD150C DN 50 2" 60 to 150 hl/h 27 to 66 gpm 52 to 127 bbls/h
DWD200C DN 65 2½" 80 to 200 hl/h 36 to 88 gpm 69 to 170 bbls/h
DWD250C DN 65 2½" 100 to 250 hl/h 44 to 110 gpm 86 to 213 bbls/h
DWD400C DN 80 3" 160 to 400 hl/h 70 to 176 gpm 136 to 340 bbls/h
DWD600C DN 100 4" 240 to 600 hl/h 105 to 264 gpm 204 to 511 bbls/h
DWDA00C DN 125 5" 400 to 1000 hl/h 176 to 440 gpm 340 to 852 bbls/h