An automatic unit designed for inline nitrogenation.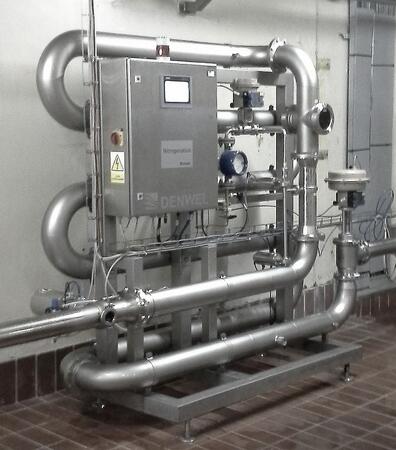 Efficient, hygienic Injector

Microbubble size

Instant N2 dissolution

PLC controlled
N2 is injected into the beverage through the Bucher Denwel injector, which splits the gas into microbubbles. The most efficient and instant dissolution of N2 is achieved with only a minimal pressure drop, no gas loss and a fully hygienic design. No static mixer, sintered candle or recirculation tank is needed.

The system is PLC-controlled and has automatic modes for continuous nitrogenation and CIP. The selective inline N2 analyser continuously monitors the nitrogen concentration. The output signal is processed by the PLC to control the N2 dosing. A high precision control valve accurately adjusts the nitrogen injection, avoiding any over- or under-carbonation.

The unit has an uncompromising sanitary design and is fully CIP cleanable. It comes assembled on a compact frame and is tested so that it can be rapidly put into operation. The modular layout allows for easy integration into production and efficient combination with other process units.
Nitrogenation: up to 20 ppm (P & T dependent)
Pressure: operating 3 to 5 barg, 44 to 72 psig
Temperature: operating 0 to 5 °C, 32 to 40 °F
CIP: 3 to 5 barg, 44 to 72 psig; max. 90 °C, 200 °F
Connection: Tri-clamp; other connections upon request
Dimensions: from Height 0.8 m, 31,5 "; Width 0.5 m, 19,7"; Depth 0.2 m, 6,5"
Weight: from 25 kg, 55 lb
Material: Stainless Steel 304, EPDM, PSU, PP