Grinding disc mill for apples, pears, berries, vegetables and herbs.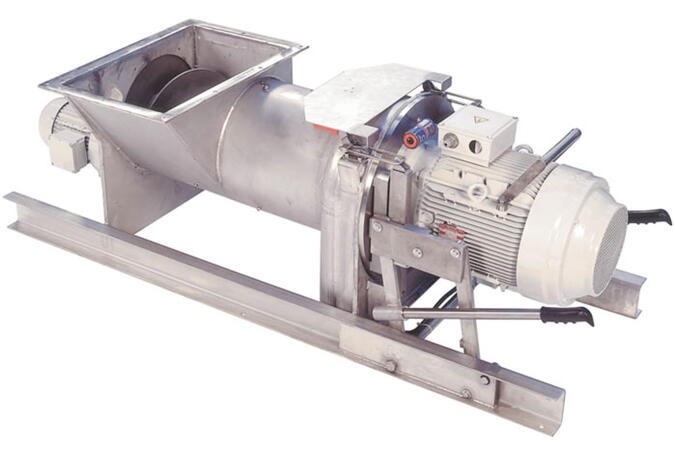 The CM50 Grinding Mill was developed to grind apples and pears. However, it can also successfully mill various other fruits and vegetables such as cherries, strawberries, blackcurrants, carrots and onions. The CM50 mill produces a mash structure that is ideally suited for juice extraction. This improved mash structure results in higher yields and throughputs during extraction. It is also particularly suitable for producing not-from-concentrates (NFC) cloudy juices and products where low oxidation is required, for example, cloudy NFC apple juice and carrot juice.
Feed material enters through the rectangular opening at the top of the mill into the filling section with the feeding screw at the bottom. The horizontal feeding screw transports the product from the filling section to the grinding tool.
The grinding tool is the heart of the mill and consists of a rotating disc with star-like attached grinding knives. Due to the fast rotation of the grinding disc, small particles are separated and accelerated. The centrifugal force generated from this throws out the milled product through an adjustable discharge slot into the ejection area. From there it leaves the mill through an opening in the bottom of the housing.
The structure of the particles is adjusted by controlling the rotational speed of the grinding tool, the width of the product discharge slot, and the size of the knives. The grinding tool and drive are mounted on a pivoting mechanism which can be easily pulled out and turned by 90° for easy access and economical maintenance of the grinding knives.
Throughput: 30–50 t/h apples, 8–12 t/h carrots

Weight: 700 kg

Dimensions: 2150 x 804 x 660 (L x W x H in mm)

Scope of supply: Grinding mill with two motors and two frequency converters, stainless steel control cabinet with PLC control system and touch screen

Connected load: 34 kW, 400 V