Cross-flow ultra filtration unit for the clarification of fruit juices, wines, aqueous plant extracts, and fermentation broths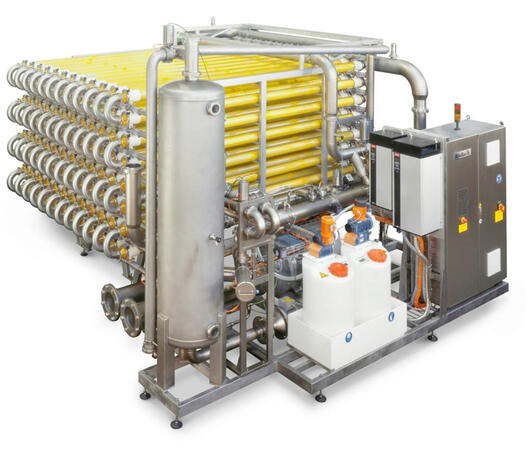 Maximum product yield and excellent juice quality
Tubular membranes allow high solid concentrations
Modular design, high performance on small footprint
Reliable and fully automated system
Integrated CIP system and tank management
The Bucher Unipektin UltraStar XL has been designed for applications in the food industry and biotechnology. Due to its large diameter tubular membranes it is predestinated for the clarification of aqueous suspensions with medium to high suspended solids content. The Bucher Unipektin UltraStar XL is mainly used for the filtration of juices (from apples, pears, berries, stone fruits, citrus fruits, and pineapples), fruit wines and fermenter broths.
The UltraStar XL is a semicontinuous cross-flow filtration plant. The product that needs clarifying is circulated via a circulation tank through the inside of the ½'' diameter membrane tubes. A portion of the liquid phase thereby passes through the membrane and leaves the system as permeate. Fresh product is continuously added into the circulation tank. As soon as the maximum concentration of suspended solids has been reached, the retentate can optionally be diafiltered (leached out with water) to maximise the yield. Due to the modular design, a wide capacity range is covered. Membranes with different cut-offs enable adaptation to various applications. The integrated control system can manage the up- and downstream product tanks. Hygienic design with automated CIP, including the circulation tank.
Membrane modules: 4'' housing, L = 3.6 m, 5.2 m2, 37 pcs. ½'' membrane tubes
Membrane types: UF, PVDF membranes with cut off approx. 100 kD or 250 kD
Membrane area: 83 - 499m2
Temperature range: 10 - 55 °C pH-range 2.0 -10.5
Connected load: 36 - 85 kW
Dimensions Units: < 250m2 : 3'317 x 4'432 x 3'(W x L x H in mm)
Units > 250m2 : 4'794 x 4'432 x 3'496
Scope of supply: Circulation unit with control cabinet assembled on frame, filter module unit, fully automated PLC control with touch panel.