Efficient high quality and performance solid - liquid separation system by rotating screw and perforated mesh, dragging and pressing the product throughout its length for sieving.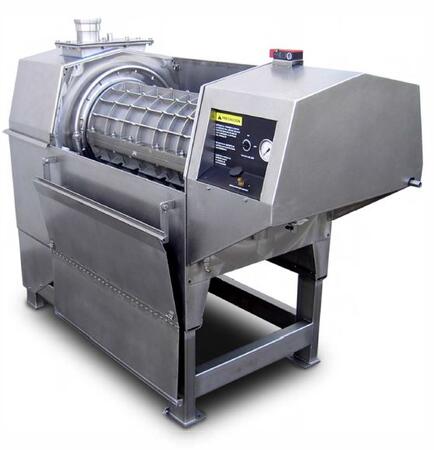 Efficient separation of liquids and solids.
Separation of juice and pulp and of essential oil emulsion from other solids.
Recovery of soluble solids (washing of pulp).
Processing capacity of a wide range of citrus fruits.
A double helix screw allows a progressive compactation of the product in two channels, dividing the product to improve the separation process. The screw inlet area is designed to regulate the supply of product.
Solids drying system by adjustable pneumatic cylinder.
Pneumatically driven spraying system for the cleaning of the sieves.
Structure and elements in contact with the product made of stainless steel.
Angular contact bearings.
Mechanical seal in solids discharge head to guarantee the tightness of the tank.
Cooling chamber fluid of mechanical seal in constant renovation.
Safety stop system in hinged covers.
ESF-12
Processing capacity: 20.000 l/h (approx.)
Tank capacity: 145 l
Sieve perforation: 0,5 / 0,7 mm
Product connection inlet: Link NW-100
Product connection outlet: Link NW-100
Pneumatic connection: Quick connector Ø6
Motor power: 15 kW
Weight: 1.100 kg