A high concentration unit designed for inline nitrogenation.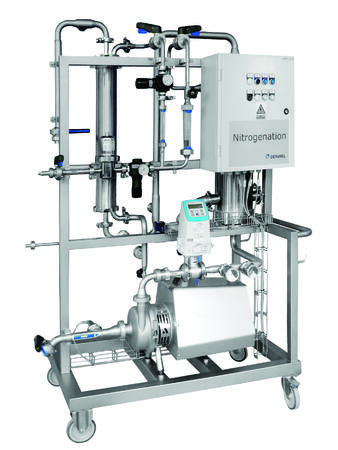 Creamy head and avalanche effect

Long-lasting foam stability

Efficient and precise nitrogen control

Optional decarbonation
The unit is equipped with a membrane contactor for nitrogenation. The internal fibres of the membrane contactor form a large contact area between the gas and beverage, ensuring instant and efficient dissolution. The applied N2 pressure enables control of the final N2 concentration in the beverage.
Optionally an additional membrane contactor can be used to remove CO2. This is useful for a beverage with higher CO2 concentration or a beverage where a specific CO2/N2 concentration is required. The removal of CO2 is set by the level of vacuum applied to the decarbonation membrane contactor.
The unit is typically installed between two BBTs. The centrifugal pump transfers beverage from the first tank into the unit at constant pressure, temperature and flow. The outlet valve is used control the required beverage pressure and flow. The treated beverage is then pushed to the next tank.
CO2 removal: up to 3 g/l, 1,5 V/V (P & T dependent)
N2 addition: up to 80 ppm (P & T and other gases presence dependent)
Pressure: Operating 1 to 6 barg, 15 to 90 psig
Temperature: Operating 0 to 5 °C, 32 to 40 °F
CIP: 50 °C, 120 °F, at 7 barg, 100 psig; Max. 65 °C, 150 °F, at 2 barg, 30 psig
Connection: Tri-clamp; other connections upon request
Dimensions: from: Height 1.9 m, 75"; Width 1.4 m, 55"; Depth 0.7 m, 28"
Weight: from 100 kg, 220 lb
Material: Stainless Steel 304, EPDM, PSU, PP