M-Polynox MC, the reliable solution for crossflow beer filtration with polymer membranes. The technologies used stand for performance, reliability, fast return on investment and solid operating results.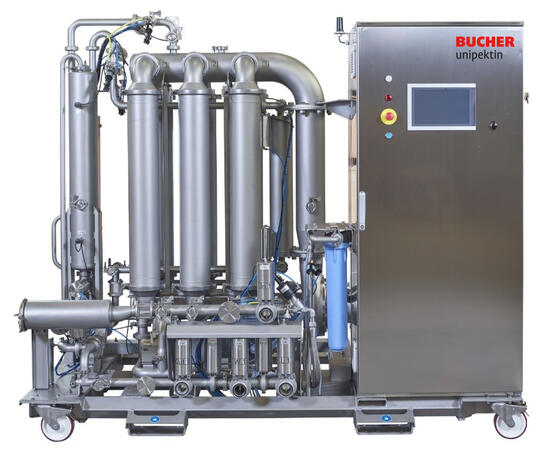 The reliable solution for membrane filtration of beer
The technologies developed by Bucher Unipektin ensure performance, reliability, short return on investment and sound operating profits. We present M-Polynox MC as the reliable solution for crossflow beer filtration with polymeric membranes.
M-Polynox MC filtration process for high-quality filtered beer and steady flow rates.
High filtrate yield without solid waste.
Flexible automation system with maximum operational safety thanks to permanent self-controlling devices.
Plants for batch and continuous operation are available.
Modular design for easy expansion. Plant sizes from 10 - 500 hl/h.
Bright, yeast-free filtered beer
High flexibility for a wide range of beer types
Easy to operate
D.E.-free beer filtration with polymeric membranes
The filters are equipped with a polymeric, hydrophilic membrane with asymmetrical structure specially adapted to beer. The asymmetrical structure greatly contributes to maintaining a steady filtration flow rate. The membranes can be exposed to alkaline, acidic and oxidising cleaning agents for reliable recovery of filtration performance.