Belt dryer for continuous freeze-drying (lyophilisation) of coffee as well as pre-dried or frozen pieces of fruits, vegetables or meat.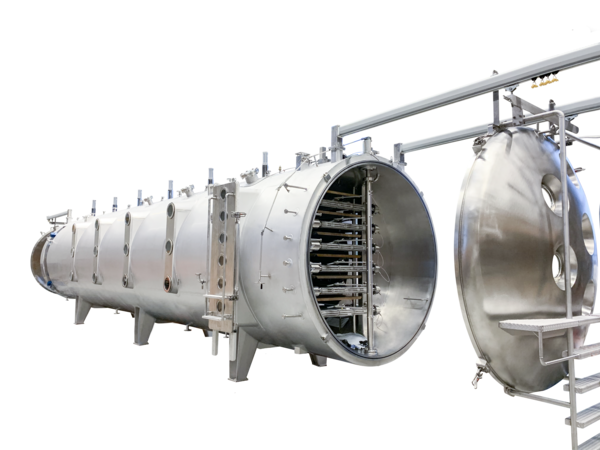 Continuous and gentle freeze drying

No oxidation

Suitable for free-flowing granular products

Drying avoiding carriers for clean label promotion

Low energy consumption

Minimal flavour losses

Customised and high-performance equipment

Fully automated operation and cleaning

Closed system with hygienic design
Coffee/Tea

Fruits and vegetables in pieces

Meat or sea food in pieces

Pharmaceuticals

Probiotics and enzymes

Infant nutrition
The Bucher Merk DryBand for freeze drying is suitable for products that are sensitive to heat.
Free-flowing powders, granules and products of larger sizes are conveyed into a hopper on top of a vacuum belt dryer. The product is fed in doses into an intermediate chamber, from where the product will be loaded onto the top belt by a unique dosing system. Solid products are transported back and forth through the dryer from the top to the bottom through a series of belts, to extend the residence time.
Heating plates underneath the belts are installed in independent heated zones to allow constant or variable drying rates. Additional radiant plates (patented) give a surplus on drying capacity. This system allows gentle continuous drying for maximum product quality. In addition, the last zone can be designed as a cooling zone if required. 
The pieces are collected in an intermediate hopper from where they are discharged out of the vacuum into the atmospheric environment using automatic airlocks. The vacuum is maintained using a single stage or multistage desublimation/vacuum system.
Feeding rate from 2 to 4000 kg/h

Heating & cooling surface from 0.2 to 325m2

Heating range from 20 to 180 °C

Vacuum range from 0.5 to 50 mbar (abs.)