Bucher grinding technology for optimal mash structure.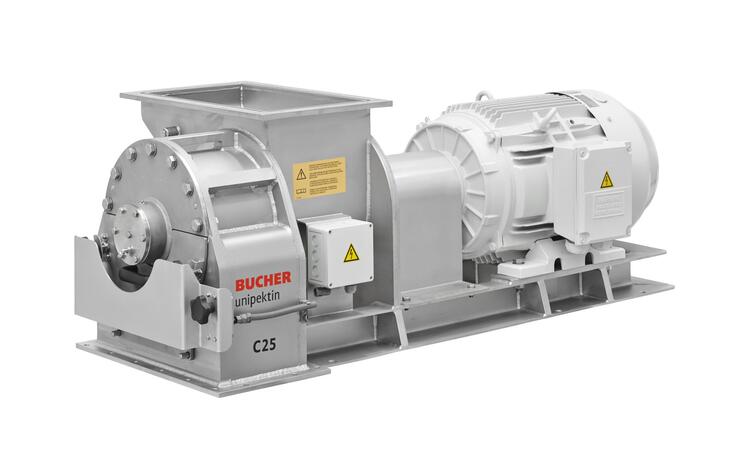 The C25 grinding mill was developed to mash apples and pears with optimal output. It is also suitable for the grinding of berries and vegetables and can produce mash particles.
The mill features a housing with rectangular feed and discharge hoppers, a horizontal feed auger, a fast-turning rotor and a grinding cage with grinding knives. The rotor and feed auger are mounted on a shaft driven by an asynchronous motor.

The mill's feed material enters the feed hopper into the feed auger. The auger conveys the product into the cylindric grinding section where it is accelerated by the rotor. Due to the high radial velocity and the centrifugal forces, the product is spun along the knives which are mounted in the grinding cage. Consequently, it is finely milled and ejected from the grinding section, through the discharge slots between the grinding knives.

The innovative grinding cage is formed with exchangeable segments: a discharge element with integrated discharge slots is located between two adjoining grinding knives. The patented design* of the discharge slots assures high throughput combined with low energy consumption.

The grinding cage can be dismounted easily and quickly for cleaning and maintenance purposes. It can also be rotated 180° for the best possible use of the grinding knives. The mash structure can also be varied by applying grinding knives with different sized teeth.
*(EP 1 071 343, US 6 655615).
Throughput: ca. 20 t/h apples

Weight: 430 kg

Dimensions: 1562 x 733 x 576 (L x W x H in mm)

Connected load 22 kW, 400 V

Material: Stainless steel (AISI 304) (with product contact)

Scope of supply: Grinding mill, service switch