Universal hydraulic filter press for the extraction of juice from apples, pears, berries, stone fruits and vegetables.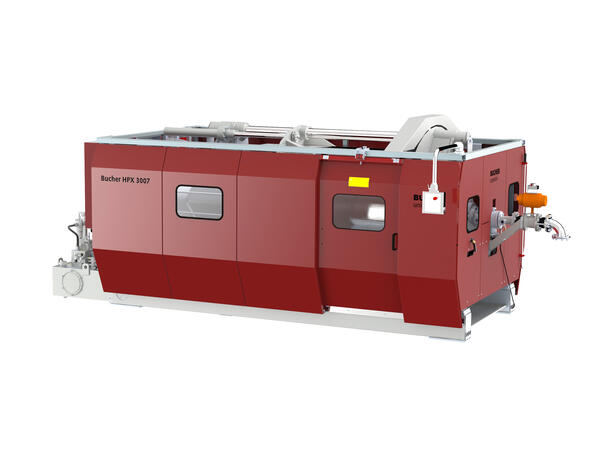 The Bucher HPX 3007 press is suitable for a wide range of solid-liquid separating tasks. The press has been established worldwide for juice extraction from apples, pears, blackcurrants, cherries, grapes, berries, pomegranates, stone fruits and vegetables. It is also successfully in use in the pharmaceutical industry to extract enzymes and herbal extracts. The yield of valuable substances can be increased by postextraction with water or other solvents. The HPX 3007 is the right choice if the highest extraction yield combined with low suspended solid content is required.
The HPX 3007 press is designed as a hydraulic piston cylinder system. A total of 68 drainage elements – each looped on the piston side – are installed between the piston and the end of the cylinder. After filling the press with product through the central inlet, several pressing cycles are executed until the desired press result is achieved. A pressing cycle comprises of the gentle pressing of the product by the forward motion of the piston and subsequent intensive loosening of the press-cake while the piston moves backwards and the press unit is rotating. The interaction of pressing and loosening steps is unique and leads to maximum yield of high-quality juices with low suspended solid content. After the pressing is finished the press cylinder opens and the pressing residue is discharged. The self-optimising control system determines the pressability of the product in every process phase. The pressing parameters are continuously adapted to achieve optimum throughput and yield. Realtime data recording provides comprehensive data of process cycles and production results.
Throughput with apple: 4.0–5.0 t/h at 82–93 % w/w yield
Press chamber volume: 3'300 liters
Number of drainage elements: 68
Empty weight: 11'300 kg
Dimensions: 5'598 x 2'834 x 2'458 (L x W x H in mm)
Connected load: 22 kW
Universal hydraulic filter press for the extraction of juice from apples, pears, berries, stone fruits and vegetables